Anti-Semitism at UK universities has increased in the past five years, but what's causing it, and how are students fighting back?
By Anna Behrmann and Thea de Gallier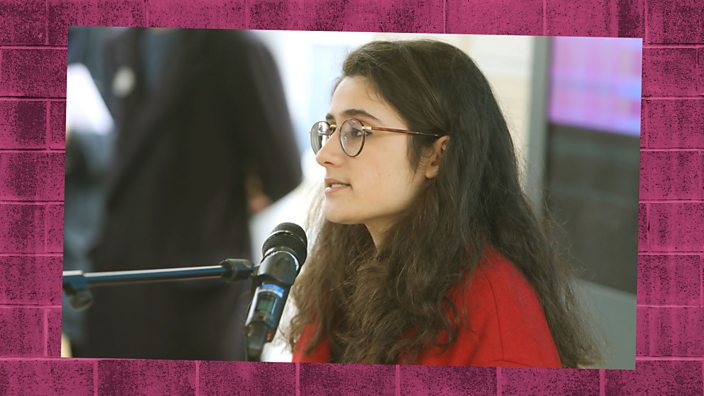 "I was standing at the Jewish Society stall in my student union, when someone came up to me and said, 'Can I ask you a question?'" recalls Bradley Langer, president of the society.
"They said, 'I've been told the Jews control the media – is that true?' When I told them no, they answered with another strange question, 'Do you have all the money in the world?' I stared at them, taken aback, and finally answered, 'If I did, why would I be standing here?'"
Bradley, 22, the current president of Coventry University's Jewish Society, says he found the encounter unnerving. "It was the first time I'd heard anyone utter those sorts of conspiracy theories to my face. You hear about people saying anti-Semitic things on the news and you think, 'Who would actually believe that?' Hearing it face to face is quite shocking."
Bradley's shock turned to anger when earlier this year, reports of apparent anti-Semitism among his fellow students made headlines. In February, members of a Coventry university sports club went on a night out wearing t-shirts with anti-Semitic slogans written on them.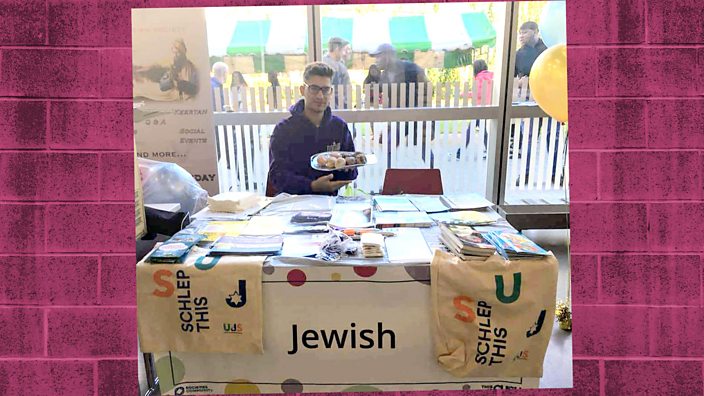 It wasn't the first time something like this had made the news. In October 2018, the Conservative Society at the University of Plymouth was suspended after a similar incident. According to the Union of Jewish Students (UJS), the umbrella organisation for all 60 of the UK's university Jewish societies, there have been reports of two other instances of anti-Semitism at "white t-shirt parties" in this academic year.
Bradley only became aware of what had happened when a friend sent him a link to a Facebook post showing the students out partying in the t-shirts – one of which had the words "the Jews deserved it" scrawled on it.
"When I first saw those photos I did a double take and thought, 'Am I reading that right?'" he recalls. He immediately got in touch with the student union – which has since suspended the club for six months. The university claims that all sports club organisers now have to undergo hate crime awareness training.
"I felt like I had to speak up and say that, in 2019, it's not OK to say things like that about the Holocaust. For them to wear these slogans on a night out thinking that they were having a bit of fun is disgusting. What happened to my family, and all the other innocent victims during the Holocaust, was certainly not a joke."
Bradley has also been confronted by the sight of a large swastika stuck on a table in the library, and he alleges that a lecturer asked members of the Jewish Society if, at their meetings, they "kick Palestinians".
In response to the allegation about the lecturer, the University of Coventry said an investigation had been carried out and "appropriate action" had been taken. The university also said it would be adopting the International Holocaust Remembrance Alliance (IHRA) definition of anti-Semitism, a list of non-legally binding criteria explaining what anti-Semitism is, that has been adopted by 33 countries including the UK. The Office for Students, the regulatory body for further education in England, adopted the definition in December last year.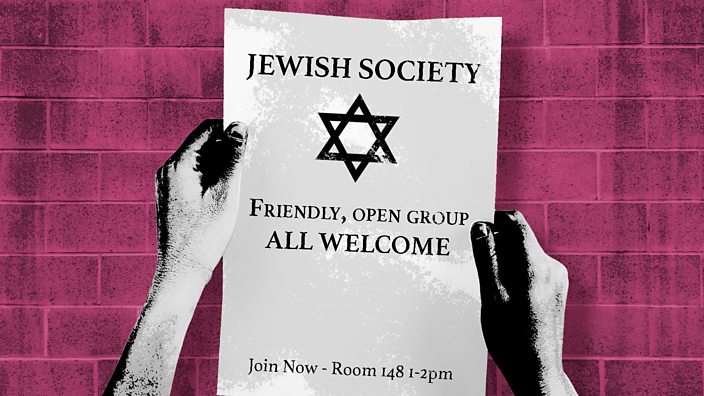 These incidents seem to be part of a broader trend. In 2018, anti-Semitic hate incidents in the UK reached a record high at 1,652 according to the Community Security Trust(CST), a Jewish organisation that collects data from police forces and from people reporting incidents to the CST directly. CST data also suggests that incidents at universities are showing a slight rise, from 19 in 2014 to 25 in 2018, with a spike of 41 in 2016. These included abusive behaviour and damage to property.
The situation has become so serious that some Jewish societies are reporting being asked to pay security costs of up to £2,000 just to hold their events. In May, the government weighed in, urging British universities to do more to 'stamp out' anti-Semitism.
Another case that made national headlines this year was the row at the University of Essex over the formation of a Jewish society. A lecturer was sacked in May after allegedly posting anti-Semitic comments on social media. Concerns were raised over posts Dr Maaruf Ali made on Facebook saying that "Zionists want to create a society" at the university. Other, now deleted posts appeared to deny the Holocaust.
Speaking to the BBC in May after his dismissal, Dr Ali denied being anti-Semitic or denying the Holocaust and said he did not "hate Jews, their religion, people or their culture".
The posts were discovered after 200 students voted against a Jewish society being set up on campus. The scale of the opposition caused shockwaves on social media with Jewish celebrities like the comedian David Baddiel and Countdown presenter Rachel Riley expressing outrage.
First-year student Amy-Julie Fogiel, 18, is the founder and president of the society. "I was very disappointed that so many students voted against it," she says. "It was the first time I had experienced anti-Semitism so directly. It made me realise that it is still a very present threat."
Another founding member, Eli, says that she has at times felt threatened on campus. "We do feel the tension because people now know who we are," she says. "It's a very small campus."
Some students claimed they voted against the society's formation due to its plans to celebrate the Israeli national day and "explore Zionism" (the belief that there should be a Jewish state in the Middle East, which translates to support for the modern state of Israel). One student told the BBC at the time: "This excludes a huge proportion of the Jewish community and implies that all Jews support the Israeli state. Judaism should not be conflated with Israel."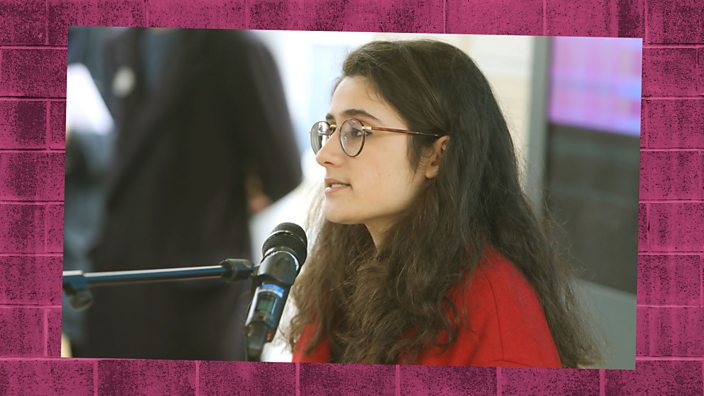 So, what is behind the spread of anti-Semitic incidents at universities? Is it the result of raised awareness and better reporting, or has the politicisation of the issues around anti-Semitism on a national level sparked a new wave of discrimination? Or it is just that as the Holocaust becomes an ever more distant memory, there is an urgent need for better education?
"I'd like to think the students who write that stuff on t-shirts don't really mean it," says Dan Kosky, campaigns organiser at the Union of Jewish Students (UJS). "That's why we hold a lot of educational events on campus to explain what is and isn't acceptable."
According to experts, national political tensions over the issue are spilling over into campus politics and fuelling division. The Labour Party has been battling allegations of anti-Semitism since 2016, and the row is still ongoing. Labour leader Jeremy Corbyn has long been a supporter of Palestinian rights, and several Jewish MPs including former Labour member Luciana Berger have alleged incidents of anti-Semitic bullyingin the party. Labour adopted the IHRA definition in full in September 2018, after a fierce internal debate around certain criteria relating to criticism of Israel. The Equality and Human Rights commission is now investigating Labour over the allegations of anti-Semitism.
Those tensions seemed to be mirrored in student politics when back in September 2016, there was an outcry when the newly elected NUS president, Malia Bouattia, was accused of anti-Semitism for calling the University of Birmingham a "Zionist outpost" in a blog she co-wrote in 2011. A video from a 2014 event, when she was the NUS's Black Students Officer, also showed her referring to "Zionist-led media", and some universities disaffiliated from the NUS as a result of her presidency. A Home Affairs Select Committee report said her comments smacked "of outright racism". An internal NUS investigation dismissed four allegations of anti-Semitism, including the comment about Birmingham university, but found that another comment – in which Bouattia said the UK's anti-terror programme Prevent was fuelled by "Zionist lobbies" – could be interpreted as anti-Semitic. No disciplinary action was taken but it was recommended that Bouattia apologised.
When she was elected in 2016, Bouattia denied being anti-Semitic and stated her commitment to fighting all kinds of hate, but the UJS noted that some Jewish students were "not satisifed" with her response. She ran for president for a second term but lost in 2017. That same year, candidates holding or running for top jobs on the NUS executive committee made anti-Semitic tweets about Jews being stingy.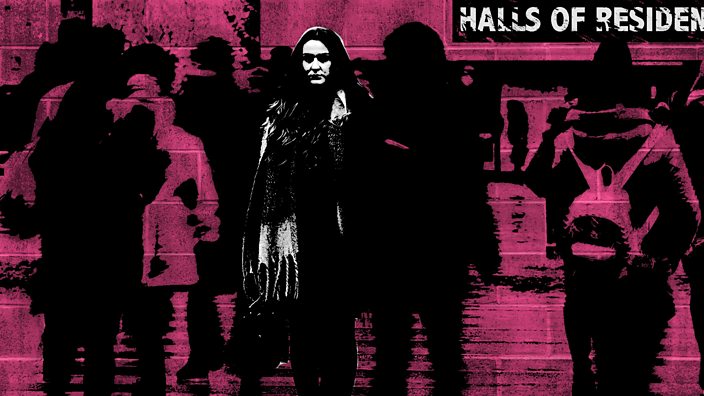 "I'm not surprised that there has been an increase in anti-Semitism at university, because university is a reflection of society," says Professor Alberto Testa, an expert on the far-right from the University of West London. He thinks that the Brexit vote could have given some holders of anti-Semitic views an excuse to voice them.
"There has been a resurgence of anti-Semitism and also Islamophobia partly because of the divided climate brought about by Brexit. It's the attack on 'political correctness', the idea that everyone can say whatever they want. This kind of intolerance against people because they are different is a way for anti-Semites to voice their views."
David Hirsh, a senior lecturer in sociology at Goldsmiths University, agrees that the current political climate is a factor. "There is a powerful type of left-wing politics on campuses, that tends to paint Israel as the source of all that is bad in the world, and treat anyone who defends it as if they're defending something terrible," he says.
In her time at university, Josie* actively campaigned for the issue of anti-Semitism to be tackled head-on, but has become less vocal after receiving abuse. "I think debates about Israel and Palestine can sometimes stray into anti-Semitism," she says. "It's hard because a lot of Jewish students I know would consider themselves left-wing, but then we come up against these negative views of us, because of the Israel-Palestine situation."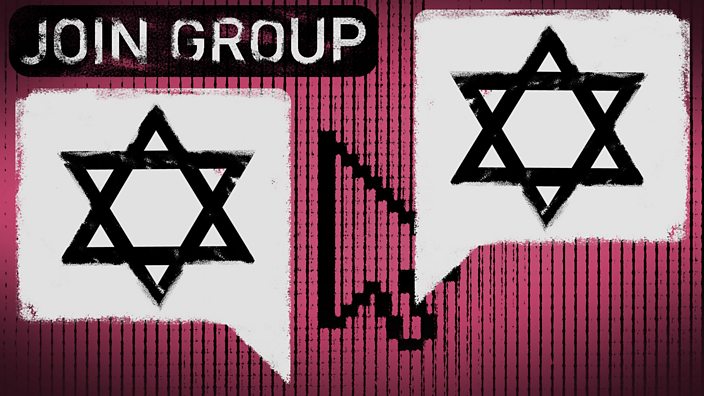 Not all Jewish students agree. Ben Southern-Thomas, a Sheffield student and member of Jewish Voice for Labour – a group that was formed in 2017 and has consistently supported Corbyn's leadership – has a different view. "While anti-Semitism is a problem everywhere, I don't think debate around Israel and Palestine is tipping over into anti-Semitism in left-wing spaces as frequently as some people say it is, certainly not to the extent that the Pro-Palestinian movement represents a particular threat to the safety of Jewish students," he says. Jewish Voice for Labour has been criticised by the Board of Deputies – the representative body for British Jews – as "anti-Semitism deniers".
Josie went to the police after receiving some particularly nasty threats over social media. "My housemates, who aren't Jewish, were shocked. I told them to lock the doors, then I left town very quickly," she says. The experience affected her mental health and her studies. She took time off but came back determined not to let the hate defeat her.
"The online trolls want you to shut up, and sometimes you feel like doing that. But if everyone shut up, there'd be no one left to stand up for their beliefs," she says.
Others regard the rise of the far-right as a threat. There was a 36% rise in referrals to Prevent, the UK's anti-terror scheme, for far-right activity in 2017-18. And 27% of the 1,652 anti-Semitic incidents logged by the CST in 2018 contained far-right or Nazi imagery.
Professor Matthew Feldman is the director of the Centre for Analysis of the Radical Right, an organisation that studies far-right extremism. He believes that far-right groups have been targeting students in recent years. He cites the banned neo-Nazi group National Action, who were found to have distributed flyers and stickers on campuses, as an example. In 2016, Dan Kosky spotted stickers saying "Hitler was right" around the University of Nottingham campus, where he was a student at the time, that he thinks were put up by National Action.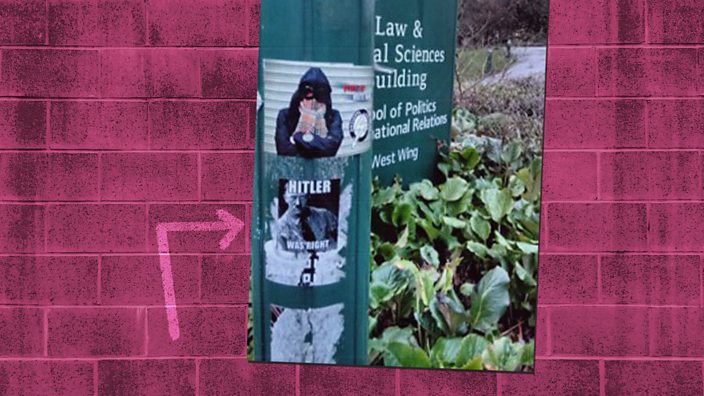 "There is also a far-right youth network called Generation Identity," says Prof Feldman. "They have been at the forefront of trying to push a kind of 'ethno-nationalism' – the belief nations should be defined by the ethnicity of those in them – on to university campuses."
He adds that their "sleek" branding – including a modern-looking website with photographs of young supporters – is "tailored to young people under 30, with students being disproportionately targeted".
"I'm very worried about the rise of far-right groups who are committed to an anti-Semitism that is ideologically entwined with Islamophobia and other forms of racism," says Jewish Voice for Labour's Ben Southern-Thomas. "On the uni of Sheffield campus we have recently had stickers going up from Generation Identity."
Social media has also played a role in facilitating the spread of hate. Incidents have been reported involving university chat groups on mainstream social networks like Facebook, as well as other more under-the-radar platforms. Last year, 384 incidents reported to the CST involved social media – that's a 54% increase from 2017.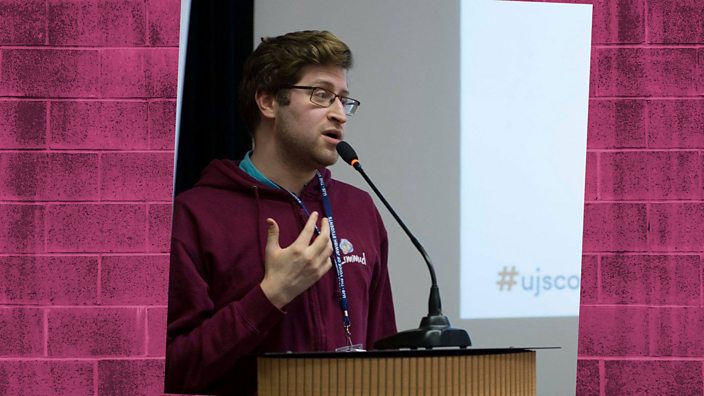 This is something Izzy Posen, a Jewish student at the University of Bristol has experienced first-hand. During a chat in a Facebook group called Bristruths – where students would anonymously submit in-jokes, complaints and observations about university life – he was told to "be like Israel and cease to exist" by a fellow student, who was later appointed the student union's black and minority ethnicity officer.
"I'm fairly used to people being rude to me online unfortunately," Izzy says. "Online discussion can get toxic very fast." He adds that while that comment was anti-Semitic and a "really aggressive and confrontational thing to say", he isn't offended by general criticism of Israel. "Personally, I don't think criticising Israel and Zionism is in itself anti-Semitic. Some people are opposed to all kinds of nationalism," he explains. "I may disagree with those assertions, but I don't think they're anti-Semitic. In fact, many Jews feel that way."
Dan Kosky also welcomes debate. "You can legitimately criticise the Israeli government – our students do all the time," he says. "At our annual conference, we have loads of debates about Israel. Nobody's saying that's anti-Semitic at all. But some people don't know where the line is."
"Social media makes it more likely for somebody to come across anti-Semitism, and to potentially have their anti-Semitic views confirmed by others," says Alex Krasodomski-Jones, director of a think tank specialising in digital media.
"While it's possible that Holocaust denial groups exist on mainstream social media platforms, Facebook, Twitter and YouTube are under pressure to remove them and are increasingly capable of doing so," Alex says. "As a result we are seeing the flourishing of alt-tech platforms that spring up to accommodate people who have what the main platforms deem unacceptable views."
These alternative platforms include Gab, which brands itself a "free speech network". It came under scrutiny last year after it emerged that the man accused of shooting 11 people at a synagogue in the US city of Pittsburgh, Pennsylvania last October had posted anti-Semitic messages on there. Gab said it had "zero tolerance" for terrorism.
So, what can be done to combat the threat of anti-Semitism on campus? In April, it was announced that there would be mandatory anti-Semitism training for NUS staff and the new NUS president, Shakira Martin, has made efforts to repair relations with Jewish students since she took over, including visiting Auschwitz with the UJS in 2018. Her approach has gone down well, with Dan saying she has made Jewish students "feel welcome again in the NUS".
Other organisations are tackling the issue too – last year, the Office for Students provided £480,000 funding for projects tackling hate crime in higher education. And in May, the Government urged all universities to adopt the IHRA definition of anti-Semitism.
Those who have had their student experience coloured by anti-Semitism have dealt with it in different ways. For some, it has made them more determined than ever to express their identity. "I'm proud of myself," says Amy-Julie, founder of the Essex uni society. "This experience has only strengthened my Jewish identity."
Josie is determined that her experience shouldn't put other Jewish students off going to university. "I really want to emphasise that anti-Semitism is not an inevitable part of student life," she says. "There are some amazing parts of Jewish life on campus, like the community and going to Friday night dinners and stuff."
For Bradley, it's been an eye-opening and, at times, painful journey. "I try to reassure students and say that unless you're really unlucky, you're not going to have to deal with anti-Semitism on campus," he says. "But I do think that in 2019, this shouldn't be part of my university life."
His experiences have inspired him to help others better understand his faith. "Hardly any of my friends at university are Jewish. Teaching them about my religion has been one of my favourite parts of university. I'm happy to answer questions about our festivals or what Judaism is about if people don't know."
Providing those questions aren't about anti-Semitic conspiracy theories, of course.
*Some names have been changed
If you have been affected by any of the issues raised, advice and support are available here.